Questions & Answers
Below are some frequently asked questions and answers about the Potty Watch and potty training in general. If you have a question or comment, please go to our feedback page and send us a note.
---
How do I know when my child is ready?
Look for signs like staying dry through the night or for long intervals during the day. Also notice if they ask to be changed as soon as they potty.
---
When should I start potty training my child?
Do you have two consecutive days when you can stay focused and positive with no pressure? This should be a fun time for the person training to be creative and the child to be relaxed.
---
How do I change the batteries in my Potty Watch?
The Potty Watch uses two AG-13, LR44, or equivalent 1.5v watch batteries. Newer versions of the Potty Watch (with 3 screws on the back) have replaceable batteries. See diagram.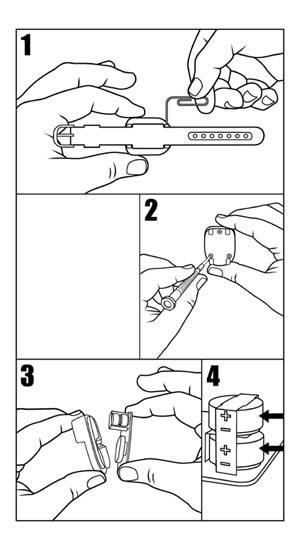 Use a paper clip to depress the spring bars and remove the watch band from the watch case.
Use a small jeweler's Phillips head screwdriver to remove the three screws on the back of the watch case to open the watch case.
Remove circuit board from the watch case.
Place board with new batteries inside the watch case, secure the watch case using the three screws and replace the watch band.
NOTE: Replacement batteries and screwdrivers, as well as detailed instructions for replacement available on the Products page.
---
How do I change the Batteries on the Potty Watch?
The Potty Watches made since early 2009 are designed to allow the user to change the batteries. You can see how this is done by clicking on the YouTube link below for step by step instructions.
Change Your Batteries Video