Potty Watch Instructions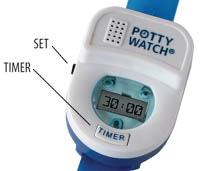 Just set the timer for 30, 60, or 90 minutes. It will count down to 00:00. Then a song and flashing lights let the child know it is time to try going potty. After the song and lights finish playing, the timer automatically resets itself and begins counting down again.
HOW TO SET THE TIMER
Hold down the SET button and then press the TIMER button at the same time to begin mode selection.
Press TIMER button only within 5 seconds to select the next mode.
The mode selected will flash for 5 seconds then begin.
To change modes again, repeat steps 1 through 3.
In Try Me mode children can play the song and lights simply by pushing the TIMER button.
In the 30, 60 and 90 minute count down modes, the song and lights play ONLY at the end of the count down period.
Off Mode stops the timer.
| | |
| --- | --- |
| Modes | Display |
| Try Me | PLAY |
| 30 Minute | 30:00 |
| 60 Minute | 60:00 |
| 90 minute | 90:00 |
| Off | OFF |
Video: Setting Your Potty Watch